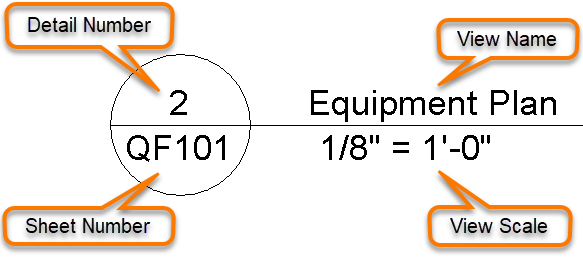 Click Here to Download the Tutorial 4 Revit Template to use with this tutorial 👈⏩💾.
Tutorial 4 - Create a View Title
Alright welcome back, this week we are going to create a View Title. What is a View Title? In Revit, each view can have a title that can contains the view name, the view scale, the detail number and the sheet number.
It will replace these unfinished looking lines in front of our Views and afterwards it will look great.
But before we can start working on our View Title, I want to explain the difference between Viewports and the View Title. The wide unfinished lines that are below each of our views are the View Titles, the titles of the Viewports. When you add a view to a sheet, a Viewport displays on the sheet to represent the view.
Viewports apply only to project drawings, such as floor plans, elevations, sections, and 3D views. They do not apply to schedules.
Viewports don't contain any settings or options to control what the View looks like, instead they are just a few settings that control what the View Title looks like, and they have no control over the View itself.
The View is controlled by the Properties window when the view is selected. When you want to Save the settings in the Properties window and use them on other views, there is something called View Templates and they are great. We will get to those in a later blog post since they are a must have for any professional.
Let's start by selecting the Equipment Plan, once you have it selected your Properties window should look like the one to the right.
Next click Edit Type to open the Viewport Type Properties.